Punctuation Invaders

Arcade action meets punctuation and capitalization!
Download version1.0
for OS X
Download version 1.1
for Windows
Register now!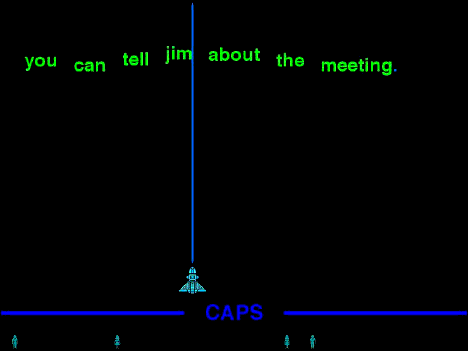 Punctuation Invaders is an arcade grammar game pitting the player against extraterrestrial invaders in the form of unpunctuated, uncapitalized sentences. The student fires a laser to punctuate words while avoiding shots from the alien. But the sentence must be completed before the aliens get close enough to beam up a human.
Classrooms frequently give students practice on the chalkboard or on paper using sentences with all punctuation and capitals removed. Now the same opportunity exists in a computer game!
---
REQUIRES:
Windows 95 - XP
Mac OS X
Screen resolution of 800x600 or higher.
32MB or more memory installed, depending on the operating system.
---
THE PUNCTUATION INVADERS DIFFERENCE: GAME PLAY
Unlike traditional exercises, Punctuation Invaders brings punctuation and capitalization into an arcade game setting.
But Punctuation Invaders is not your typical educational game. It offers real arcade game play with the interaction, sounds, and background music you'd expect from a regular game, combining the best of arcade experience and education.
Players are kept on their toes with three difficulty settings controlling the speed and action, from very easy to quite challenging. (The difficulty of content depends on the level file chosen.)
Information and game options are selected with a full-screen (at 800x600) arcade interface to complete the experience.
---
THE PUNCTUATION INVADERS DIFFERENCE: LEARNING
Some exercises require the student to consider many possibilities and place many instances of punctuation before receiving feedback. Others focus on a single instance of punctuation a time and immediately tell a student whether the attempt was right or wrong.
In contrast, Punctuation Invaders strikes a good balance for learning and practice. Students focus on one type of punctuation at a time, limiting the number of possibilities that have to be considered before feedback is given. However, they must correctly finish one type of punctuation before proceeding to the next, so students have a chance to consider a reasonable number of different possibilities at one time and build proficiency.
---
EXERCISES
Punctuation Invaders comes with 12 starter levels--dozens of sentences--which can be used after registering. Parents or teachers can add additional levels with their own sentences or text pasted in from other sources.
Levels can easily be shared with other teachers or parents, and can be locked to keep the answers secure from non-administrators. Students can also make their own levels for classmates to play.
The unregistered version of Punctuation Invaders plays the Demo & Training level. Register to get started today!
---
REGISTRATION
Punctuation Invaders can be registered on the internet, and you will typically receive your registration code within minutes.
---
LICENSES
Individual / home license: $9.95
Use on all computers in one home, or on one computer at a school or office.
Site license: $69.95
Use on all computers located at (or owned by) one school or organization site.
District license: See Chart
Use at all schools in a district.
---
Download version1.0
for OS X
Download version 1.1
for Windows
Register now!
Enjoy your software!
---
CD collections: Request permission at least two weeks before finalizing your CD content. Please mention the approximate number of CDs to be distributed. Thanks for your cooperation!
---